Post by Marcus Thomas Brody, M! T! B!! on Jul 28, 2011 12:32:03 GMT
It was an exciting time of the year. One of the most important events on the FWF calendar was fast approaching. Jealousy was coming... This would be my second Jealousy tournament. My first didn't go quite as I hoped since "The" Ross Walker handed me my first ever loss on August 4th 2010 in the quarter finals of last year's tournament. This time, I wouldn't have to worry about Ross in the quarter finals. When you look at this year's brackets: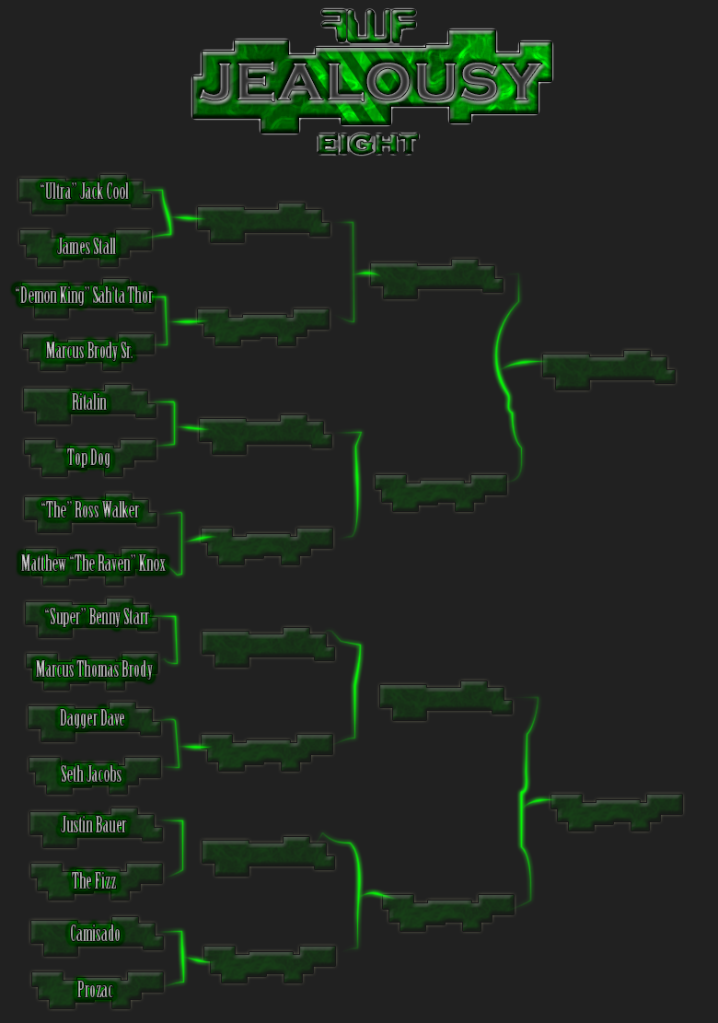 I'm in the opposite bracket to him so if I'm to face him again, it's going to be in the final. In fact, my side of the bracket was quite easy. Surely I'd be a finalist this year. But who could I face in the final? Well, I already mentioned Ross, though he has a tough first round match with Matthew "The Raven" Knox this week. I knew we were in for an interesting match since Ross hadn't been seen since Genesis and Knox hadn't been seen in a month after his Lost Heroes League defeat to Timothy Edward Vortex. Oddly enough, he hadn't entered himself into this year's Jealousy tournament... This week would also see two newcomers battle to face me in the quarter finals as Dagger Dave goes head to head with Seth Jacobs, and the ever-so-highly anticipated match between Bert Ritalin and The Top Dog. I couldn't wait to watch a man who hadn't been relevant since 2002 go one on one with a med who hadn't been seen since I took him through the Suplex Machine and pinned his has-been arse in the gauntlet I won my Elite Tag Team Championship in.

Which brings me to my match this week. One guy I knew I wouldn't be facing in any of the later rounds was "Ultra" Jack Cool. He'd been paired in the brackets with my tag team partner James Stall, and I'd been paired up with "Super" Benny Starr. Surely this could mean Jack Cool could beat James, and possibly face me in the Jealousy final? If you thought that, you're wrong! If Jack Cool beats James Stall, then not only is James out of Jealousy, I am too! And to top that off, I'd lose my title!

When I first started training to wrestle, it was early 2004 and FWF hadn't started yet so all I had to watch were tapes of UCW. I only really started watching FWF around Code Red 2006, shortly after my dad lost a Loser Leaves FWF match to Predator. This meant I wasn't the most familiar with the first two Jealousy tournaments, and I was sure a bit of a history lesson would help me prepare. I'd tried to ask Predator- since he was around for both- but he wasn't available. I think he was busy doing an interview for FWF Magazine or working on his show. Lucky for me, one of the most clued up guys around was paying a visit to his dad this week. I hadn't seen Seth Strachon since Genesis so it was a pleasant surprise to see him one morning at breakfast. Once we were done with our bagels, we hit the pool and chilled out on inflatable chairs, with beers in hand. I told him the stuff I'd gone through before and told him all about the tag match this coming Live-Wire...
Seth Strachon:
You know, MTB, it's fitting your first round match is tag... The first Jealousy in 2004 was a tag team tournament to crown the first ever FWF Tag Team Champions.
MTB:
Thunder 'n' Lightning. Then it became singles the next year and Predator won it, right?
Seth Strachon:
Yeah, that's right. But the first Jealousy being for tag teams isn't the only thing fitting about it.
MTB:
What do you mean?
On any other day I might just go crazy... my mind would be surging trying to think about what he meant before I'd ask. Today was too hot. I'd covered my eyes with some freshly bought sunglasses to protect them from the sun and I'd put on enough sun cream to stop me burning but at least give me a light tan, yet this sun... this sun was excruciatingly hot today. I think a man outdoors feels more like a man if he can have a bottle of suds. That's only my opinion. I'd spent most of my youth cooped up indoors playing Pokémon Red, watching UCW and doing sums so I wasn't quite as used to the sun as Seth, who lived down in the sunny seaside town of Weston-Super-Mare, and holidayed at least four times a year to Orange County, California. He basked in the sun and didn't think much of it. And he looked so chillaxed in his shades and the way he sprawled across his floating chair.
Seth Strachon:
Well you're like the Jealousy tournament in a way. You started out as a tag team and it's pretty clear you're changing to singles.
MTB:
What makes you think that?
I had an inkling into where he was going but I just wanted to see what he was thinking.
Seth Strachon:
You and James. You've never been a proper tag team. It's been obvious since you guys debuted that you're two singles guys thrown together.
MTB:
Yeah, Predator paired us to give us on-the-job learning and to get us exposure. I don't know why we couldn't use the indies to get that?
Seth Strachon:
He did that himself. Took him ten years before he even signed with UCW. By the time he made it, he was already a household name. He'd have had you do the same but then the noughties and the recession happened. The only place you could learn was in FWF and being in a tag team is how you do it, and look at what you guys have done...
MTB:
Unbeaten as a team. Beaten the entire division in one match. Longest reigning champions. Third longest reigning champion in FWF history...
Seth Strachon:
...and after Live-Wire, you'll hold the record for the most defences.
Hmm, come to think of it, I really was that impressive. It was safe to say that a strong case could be made for The New Direction being the greatest tag team in history, except for one thing...
Seth Strachon:
But you'll always be known as two singles wrestlers thrown together by Predator. Statistically, you may be the best, but fans don't think of you as a tag team. They won't remember you as a tag team either. You never had matching attire. You never travelled together. Hell, when's the last time you spent any time together out of the ring?
Good question... I didn't want to sound too spontaneous, and I was quite thirsty. Time for another swig of my beer, I figured. The feeling of a cold Bud going down your throat can't be beaten.
MTB:
Good question. I think the last time I saw him was...
Okay, I was trying to remember when that was. I never liked to look stupid either, so it was time for another strategic swig of Bud. Every taste of Budweiser was spectacular. No wonder they called it the King of Beers.
MTB:
Just before Genesis, when he went to Sandy's club.
Seth Strachon:
Didn't he, kinda, sorta, take a leak on dad's bar?
MTB:
Ugh, don't remind me.
Of course, I'd tried all I could to forget about that incident. Lucky for me, I didn't think of it as the night that James pissed on the bar and trashed some of my dad's other students. There I was thinking about that old-timer trying to relive his glory days and not making way for the future like a "legend" was meant to do. Oh crap, where was I? I had something that made me think of that night differently. After all, it was the night of my first kiss. The kiss that inspired my Genesis performance. The kiss that inspired me to kick out of the Super Strike. The kiss that I was worried was going to distract me. Of course, I couldn't tell Seth that. Since my first kiss was his younger sister, Aurora. I had to not think of her right now. Swim shorts and thinking of beautiful women with only the company of another guy was never a good combination. Neither was my partnership with James Stall. There we go.
MTB:
He's not the most reliable partner, is he?
Seth too took a moment to have some of his beer. So he did that trick too, did he? He then splashed some water over his curly black hair, turning it into some sort of slick do.
Seth Strachon:
He's really not.
A rehearsed answer if I ever heard one.
Seth Strachon:
You've always carried the team. Sure, it seemed like you were equals at first, and he did get to the Jealousy semis last year. Didn't have Ross in the quarters, though, did he?
MTB:
Nope. He got James Bohne, who I handled so much better at the pay-per-view. And I stayed fresh in the gauntlet. Ross destroyed him. I don't think it's fair that him losing could knock me out of the tourney...
Seth Strachon:
Nothing ever is. You know, it's really fitting you're facing Jack Cool in a tag match too. It's-
MTB:
You already told me. The first Jealousy was a tag tourney and it turning into singles is like The New Direction's direction. I-
Seth Strachon:
If you let me finish, MTB, you'd have been told how "General" Jack Cool was in the final of the very first Jealousy. And his partner's gone further than you too. He's reached a semi.
Yeah, that's true. But Benny Starr cheated his way with an illegal move. And that was the Jealousy when Predator became the first to kick out of the Super Strike; something I thought for a bit that I was the first to do. But I didn't know Jack Shit about Jack Cool. What was his story?
MTB:
Yeah, tell me more about Jack Cool.
Seth took a deep swig from his beer. Must've been quite a bit to tell.
Seth Strachon:
"Ultra" Jack Cool didn't start out quite ultra. He was originally "General" Jack Cool and was part of "Captain" Joe Stall's Army along with "The Savior" Chris Knite. Joe was the experienced leader and the star. He'd fight all the big battles, usually against "Dark" Mark Lloyd. Despite being a former UCW Champion, Knite was Joe's protégé, along with Jack Cool. They'd team up and managed to get to the final against another former UCW team, Thunder 'n' Lightning. Of course, they tried cheating their way to the win, but T 'n' L crashed their plans and rolled to victory.
Ever so subtle with his puns, that Seth. Still a genius, though.
MTB:
So you expect people to be impressed by me beating two guys that never made it to the top yet call themselves "Better Than Sex?"
Seth Strachon:
Look at it this way: you're in the main event on this week's Live-Wire. It shows your stock in the company now, especially when "The" Ross Walker and Matthew "The Raven" Knox are on the card.
MTB:
But what have Jack Cool and Benny Starr done of worth? Last year I beat a former world champion in the first round! I've beaten six former world champions! I've even beaten a guy that The Predator never beat! Seth, I feel like I've been in a rut since I won the tag titles. I accomplish all that and the powers that be still haven't given me my rightful shots. I'm stuck in the exact same place I was last year. I'm-
Seth Strachon:
How about that contract dad's got you? I read through that thing. Stop being so down on yourself. if Pain didn't see your potential, you wouldn't have a $350,000 contract or that signing bonus. The fans like you, Pain likes you, Aurora likes you!
MTB:
Then why don't they- Aurora!? Did I hear you right?
Seth nodded. He used his shovel-like hands to paddle his way over to me and wrapped his arm around me. The chlorine from Sandy's pool seeped up and I screwed up my face with disgust. Such a strong smell that stuff has. Seth's mouth transformed into pursed lips and it seemed like he had stuff to tell me.
Seth Strachon:
I know about you and Aurora.
How?
MTB:
What do you mean?
Seth gave me a toothy grin. it wasn't quite as beaverish as Sandy's was. In fact, Seth didn't have Sandy's trademark eyebrows either. The only way you could tell they were even related was by looking at their nose, posture and the dark hair. Seth probably took more after his mother. Aurora must have too, her dark hair and blue eyes all that could see of Sandy in her. Sam Strachon, however, took the most after his dad.
Seth Strachon:
I know you two kissed.
MTB:
You do? But how? You're not mad?
Seth Strachon:
She told me. She hardly talks to Sam but she speaks to me a lot. She likes you, MTB. She can barely stop talking about you.
Really? She did? I felt my cheeks burning up, and it wasn't from the sun. I snatched my beer and downed it. Note to self: never down beer. It not only ruins the flavour, it makes your head spin. Or was that light-headedness from hearing that your crush likes you back. It was a feeling I'd never experienced in my life.
MTB:
Wow. So you're not mad?
Seth slapped my back and laughed. Damn, getting your back slapped with a wet hand when you're wet too actually hurt more than a lot of the stuff I'd felt in the ring. And I'd felt some pretty painful things.
Seth Strachon:
No, no, no, MTB. I'm not an overbearing brother like others. I know she really cares and I know you're not a total douchebag like a lot of the guys she's actually been with.
Just the thought of her with another guy made my heart sink. It was a feeling I'd had many times before I got into wrestling. I could feel a metaphorical knife going through my chest. I'd been smitten with Aurora since I first laid eyes on her. Of course, a girl of her beauty and her profession would have had experience with a few males.
Seth Strachon:
So I'm gonna help you.
MTB:
You are?
Seth Strachon:
Yeah, man. She listens to me. Plus, I was quite a hit with the ladies too.
MTB:
Really?
Well, I guess I could believe that. Seth was a rather good looking guy. And he said he had a wife too when I first met him. Just then, a voice I didn't recognise called out in an accent that definitely wasn't English.
:
Strachon? Strachon? Seth Strachon?
I turned my head and through the glare of the sun against the patio doors, I caught sight of an amazingly toned female body in the tiniest pair of denim hot pants I'd seen and a bikini top in the hottest of pinks. I couldn't see her eyes but she had cute rosy lips that enhanced her golden brown skin. She had something in her hand. Some sort of flimsy book I think. It didn't really look like there were too many pages to it, whatever it was. As I was in awe looking at her, Seth snapped me back into the world of reality by yelling back.
Seth Strachon:
Roberta!
Seth hastily put his hands in the water and paddled faster than I'd ever seen anyone paddle before. He got to the edge of the pool and the woman hopped onto his lap. She then wrapped her arms and long legs around him and gave him a passionate kiss. No way! Seth Strachon, the nerd, and her? They canoodled as Seth paddled back over to me. He had the biggest of smiles on his face.
Seth Strachon:
MTB, this is my wife, Roberta. Roberta, meet MTB.
MTB:
Hi.
Roberta Strachon:
Pleasure.
She took my hand in a gentle form of handshake. I touched Roberta's hand. Her skin was lovely. Roberta was a cute, yet hot as well, Italian woman with an adorable smile. Quite frankly, Seth's wife was a babe. How did he manage it? Meeting his wife brought up more questions than answered. I was able to see the book in her hand. Except that it wasn't a book, it was a magazine. I easily recognised the 500 year-old I defeated the other week on the front of it, and the logo for the company I worked for. At least that answered my question about where Predator was. His interview would be in that magazine, so he'd be off filming that hot wings show of his.
Seth Strachon:
Ah, babe, I see you got me the latest FWF magazine. Let's have a look.
Roberta kissed him softly on the lips as she handed it over. As Seth flicked through it, Roberta appeared to be examining my body.
Roberta Strachon:
So-a you're the MTB a-Seth's been tellin' a-me about? He never told a-me you were this... hot...
My face burned up even more. No one in my life time had ever used that word to describe me. So girls did like me? But wait, this was my friend Seth's wife, I couldn't let her turn me on. I had to think of something to put me off. That bikini top that's barely holding her breasts in it: it's hot pink. My opponents wear that colour. My face began to cool down and my heart rate was returning to normal. The wonders of thinking unsexy thoughts. Nothing was more unsexy than that greasy bald bastard or his peroxide blonde ally.
MTB:
Thanks. How did you and Seth...?
Roberta Strachon:
Get together? He had a crush on-a me for years. He was-a so nice to me, I fell-a for him. When we were sixteen, he came-a to my house and told-a me he loved-a me and we lost our flowers.
So Seth's been with her? Jammy git! I was feeling the jealousy brewing inside me. Wait, Jealousy! Benny Starr, Jack Cool. Benny Starr, Jack Cool. There. Seth suddenly piped up.
Seth Strachon:
Hey MTB, check this!
MTB:
Huh?
Seth Strachon:
Yeah, this.
He turned the magazine around and there was a full page photo of me on a green background with a label above it reading "Warrior of the Month." My jaw dropped and, although nobody could see it through my shades, my eyes were wide open. I was Warrior of the Month in FWF Magazine? Not Joe Stall? Not Sah'ta Thor? Not James Stall? But me? MTB? Here, have a look yourself: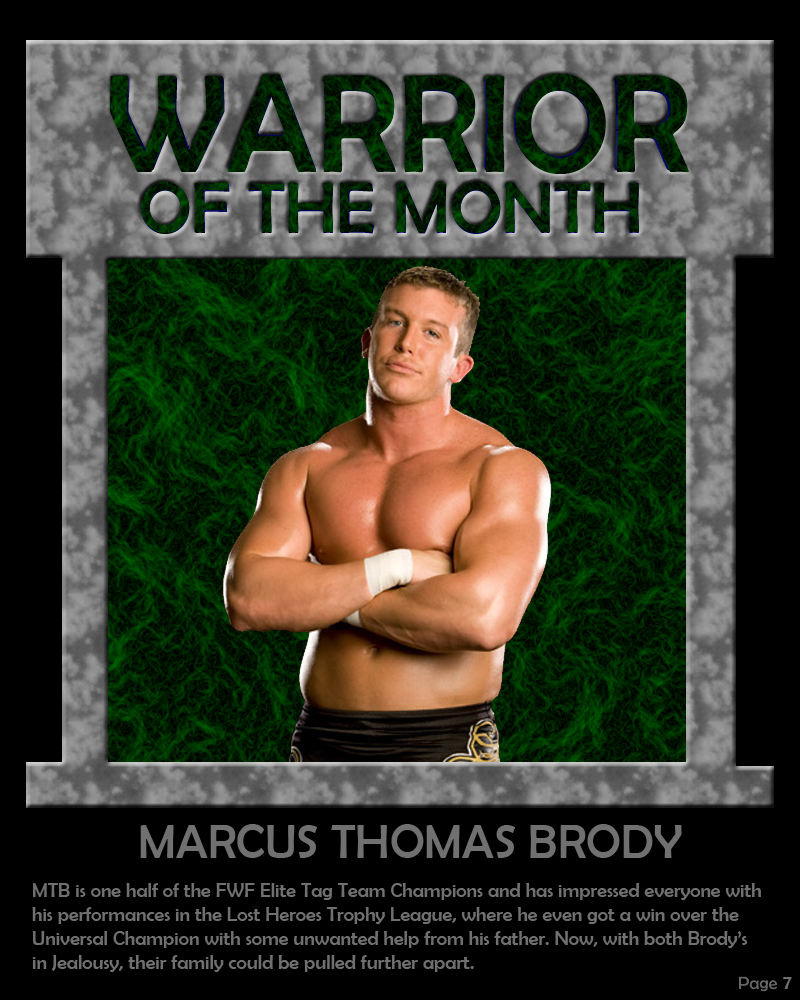 Beautiful or what?
Seth Strachon:
See, MTB? People are recognising your talent.
He turned the magazine and continued to flick through it. Seth Strachon was really making me feel good. No wonder he had a smoulderingly hot wife with a stomach that only Aurora could- oooh Aurora... Now I saw why Seth knew he could help me. He was able to get the girl. Seth was my Golden Ticket to Aurora, and of course, a Golden Ticket was exactly what I was competing for in Jealousy. My ticket to the main event. If my dad was to win the Universal title and I was to win the Golden Ticket, there was no way I'd be going for that. I'd already earned a shot by beating the current champion. Instead, I'd be setting my sights on the grand stage, and the grand prize that had eluded me since I made my debut over a year ago: The FWF World Championship! MTB would be-
Seth Strachon:
Hey, check this too!
He turned the magazine around again to show me a double page spread, also with a green background. It made sense since it was a Jealousy special to have an interview with the Gladiator that everyone associated with Jealousy. It was the long-awaited interview with The Predator. However, I could barely read the writing with my shades and the sun in my eyes.
MTB:
Could you read it out to me?
Seth Strachon:
Sure. I'll read the bit that matters. Ahem. When asked about who stands the best chance in the Lost Heroes League, he said: "And I've trained MTB. The kid's a star-in-waiting. He just needs an opportunity and this is it. He's definitely one to watch out for in the Jealousy tournament." See that? Predator's publicly endorsing you. He thinks you've not been given any chances until now. I reckon he's been in Pain's ear as well as Sandy. He mentioned James too but he was prompted about him. And he never labeled James as a "star-in-waiting" like he did you.
MTB:
Wow!
Wow, indeed. "Star-in-waiting?" "Star-in-waiting!" One of FWF's greatest Warriors, arguably the greatest, had said that about me? Blimey! I couldn't wait for Live-Wire, where I'd be able to show everyone why he thought that. Of course, Live-Wire was only the first set of heats. There were still three more matches the week after, with Camisado versus Prozac in a rematch of one of last year's semi-finals, Justin Bauer versus The Fizz, and (most likely for the Universal Championship) "The Demon King" Sah'ta Thor versus my dad, Marcus Brody Sr. It was unfair. I spent over a year paying my dues and slaving away and carrying The New Direction (damn it, announcers, get it right! It was The New Direction, not New Directions- and don't ask me how I knew this but that's the name of the glee club in "Glee") yet my dad enters a match unadvertised and beats Jack Cool to become number one contender for the Universal title! After all the world champions I beat, I was never considered!

Jack Cool... my dad's beaten him. It was clear that if old Marcus Brody could beat Jack Cool with ease, then his younger and more talented son would have little problems handling him. And I've already kicked out of Benny Starr's finisher, so avenging my DQ loss to him must be a walk in the park, right? My partner had better bring his A-game. I didn't want him costing me my rightful place at the pay-per-view. And looking back at those brackets, I knew I could end up facing James Stall or my dad in the final. Either way, once I carry my team to victory on Live-Wire and win Jealousy, everyone would know the name of... MTB! And as for James... well, I just noticed the barcode on Seth's magazine and it made me chuckle. He didn't notice though, he was too busy fondling his wife. But damn, that barcode amused me. I'd heard it was a backstage joke about James Bohne, but it was time to make it more relevant...
MTB:
James Who?
They still didn't notice. Oh well, best leave them to it. Just as long as they take it to the bedroom soon. I was sure I could relax all by myself. It's not a team sport anyway, and neither's wrestling. I'd get my singles break soon. Being named Warrior of the Month, along with finding out that my crush liked me were all I needed to give me that spark. That spark and that drive to make the transition. I'd be changing my direction soon, and that direction was up! Not only would I be this month's Warrior of the Month, I was going to become Warrior of the Year!